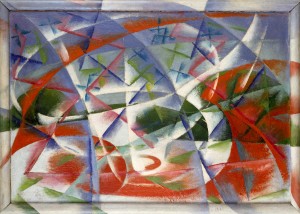 "Italian Futurism, 1909–1944: Reconstructing the Universe"

21 Febbraio – 1 Settembre, 2014
Solomon R. Guggenheim Museum, New York


"The first comprehensive overview of Italian Futurism to be presented in the United States, this multidisciplinary exhibition examines the historical sweep of the movement from its inception with F. T. Marinetti's Futurist manifesto in 1909 through its demise at the end of World War II. Presenting over 300 works executed between 1909 and 1944, the chronological exhibition encompasses not only painting and sculpture, but also architecture, design, ceramics, fashion, film, photography, advertising, free-form poetry, publications, music, theater, and performance. To convey the myriad artistic languages employed by the Futurists as they evolved over a 35-year period, the exhibition integrates multiple disciplines in each section. Italian Futurism is organized by Vivien Greene, Curator, 19th- and Early 20th-Century Art, Solomon R. Guggenheim Museum. In addition, a distinguished international advisory committee has been assembled to provide expertise and guidance."